St. Peter's Basilica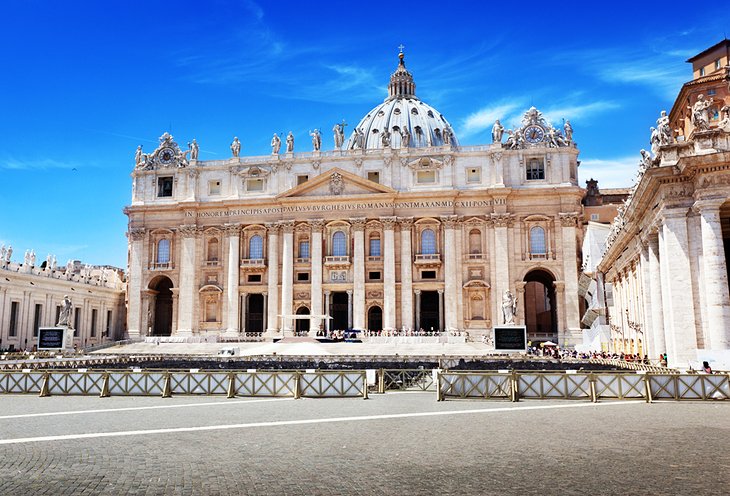 The centerpiece of the Vatican, the magnificent St. Peter's Basilica was built between the 16th and 18th centuries, replacing earlier structures that began in 326 on what is thought to be where St. Peter was buried. Ironically, it was the selling of indulgences to finance this building in the 16th century that provoked Martin Luther to begin the Protestant Reformation. The work of famous artists begins before you enter the church: in the portico are an equestrian statue of Constantine by Bernini and fragments of a mosaic by Giotto above the main doorway. It's from the old church, as are the double bronze doors. The huge nave – 185 meters long and 46 meters tall – rises to a dome 119 meters above and can accommodate a congregation of more than 60,000. Compare it to the dimensions of other great churches marked in the floor. On your right, Michelangelo's famous Pietà, sculpted when he was only 24, is behind reinforced glass. Also on the right is the richly decorated Chapel of the Sacrament,with Bernini's tabernacle and his rival Borromini's bronze grille.
Michelangelo's dome is held on four massive pentagonal piers, and below it, under Bernini's magnificent Baroque bronze baldacchino (canopy), is the Papal altar. Below is the tomb of St. Peter. The bronze throne in the apse, flanked by papal tombs, is also by Bernini. Tombs of more Popes are in the right aisle. Near the Baptistery are the stairs (a lift is outside near the Gregorian Chapel) to the roof, from which you can climb 330 steep steps inside the dome to the lantern for a closer look at the dome's structure and magnificent views over St. Peter's Square. Below the church is the crypt, with more papal tombs and an excavated cemetery, which about 250 people a day can visit on a guided tour.